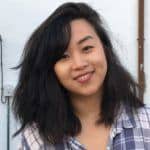 Selina Rai
, structural engineer at Arup, took part in the
Tomorrow's Engineers Zone
 of
I'm an Engineer, Stay at home
. This zone helped teachers keep their students connected with STEM throughout school closures in the 2020 Summer Term. Here Selina talks about her experience engaging with students during the pandemic.
What made you decide to take part in Tomorrow's Engineers Zone?
As a STEM Ambassador, I'm passionate about working with young people. Lockdown restrictions meant it wasn't possible to attend outreach events, so I was keen to find another way to keep the momentum going. Tomorrow's Engineers Zone provided the perfect opportunity to continue speaking to students about STEM online and from the safety of our homes.
How did you find fitting in the activity around your work routine?
Working from home has given me a fair amount of flexibility in how I arrange my work hours. If I have a chat session, I can usually cut my lunch break short or add that time on to the end of the day. I've really enjoyed my time talking to students and so have been more than happy to fit it into my work routine.
"

It's a brilliant feeling knowing that you're opening students' minds
What did you think about chatting to the students?
Having these open conversations with students is a great way for them to fire away any questions that they might have and get an instant response. The curiosity and enthusiasm students showed was brilliant to see.
There were such a wide variety of questions asked to all the multi-disciplinary engineers – topics ranging from school/university experiences, our careers, our opinions on topics like achieving net carbon zero, and many more!
How did you talk about careers in engineering?
I shared my own path to becoming a Structural Engineer from doing my A-Levels, a Master of Engineering (MEng) degree and then to a Graduate Scheme. However, I mentioned this isn't the only way into the role and there's also an apprenticeship route.
I also emphasised the importance of researching and learning more about careers that interest you, and so commended students on joining this platform to do just that.
What would you say to other engineers thinking about taking part?
I would strongly encourage other engineers to take part in the future. It's a brilliant feeling knowing that you're opening students' minds to career possibilities that they may never have considered was for them.
It's also a great way to showcase role models that they might not have access to, in particular female engineers and Black, Asian and Minority Ethnic engineers. For example, there was an International Women in Engineering Day event where the live chats were full of only female engineers which was awesome to see.
Overall, taking part in I'm an Engineer has definitely been a rewarding experience, the students' curiosity and enthusiasm has been contagious!
---
To take part in a future I'm an Engineer event, apply now at imanengineer.org.uk/engineers. Contact admin@imanengineer.org.uk for more information.