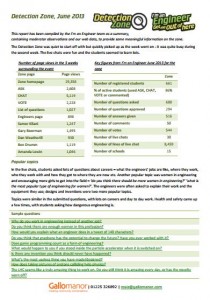 The Detection Zone was quiet to start off with but quickly picked up as the week went on – it was quite busy during the second week. The live chats were fun and the students seemed to learn lots.
In the live chats, students asked lots of questions about careers – what the engineers' jobs are like, where they work, who they work with and how they got to where they are now etc. Another popular topic was women in engineering and encouraging more girls to get into the field – 'do you think there should be more women in engineering?' 'what is the most popular type of engineering for women?'. The engineers were often asked to explain their work and the equipment they use; designs and inventions were two more popular topics.
You can download the full zone report here (PDF).