After every activity we ask the winning engineers to write a short post to be sent to all the students who took part in their zone. It's the perfect way for the engineers to reflect on the previous two weeks, thank all the students for voting for them, and talk about how they plan to use their £500 prize money.
If you're an engineer keen to experience the 'best crash course in scicomm', find out more and apply now for the next activity at imanengineer.org.uk/engineers
---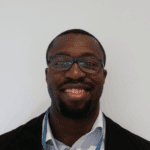 I must say that I was very impressed with the breadth and quality of questions that were asked during the competition, from interacting with many of you over the last number of weeks it would appear that we have an upcoming wave of bright upstarts getting ready to go into the mix of things in the world.
The questions were really good, and made me think so much about what I do, and how my job affects others. Some of the questions definitely stumped me. It helps me with my future STEM ambassador work, as when I am working with groups in the future, I know what you guys want to know, and I can work that into sessions.
---
If you're up for the challenge, want to answer some thought provoking questions, even learn things from students…
It only takes 2 minutes and one sentence to apply!